Descriptions
What is Zyrtec Cetirizine Hydrochloride ?
Zyrtec Cetirizine Hydrochloride is a widely recognized and trusted medication used to effectively treat symptoms of allergies. It belongs to a class of drugs known as antihistamines, which work by blocking the effects of histamine in the body.
Histamine is a natural substance that is released during an allergic reaction, causing symptoms such as sneezing, itching, watery eyes, and runny nose. Zyrtec Cetirizine Hydrochloride helps alleviate these symptoms by reducing the production of histamine and providing relief from allergy discomfort.
If you are looking to buy Zyrtec Cetirizine Hydrochloride, it is important to consult with a healthcare professional or pharmacist who can provide guidance on the appropriate dosage and usage instructions based on your specific needs. They will also be able to advise you on any potential side effects or interactions with other medications.
Taking this medication as directed can help you find relief from allergies and improve your overall well-being.
Zyrtec - Dosage
When it comes to managing allergies, finding the right dosage of medication is crucial. This holds true for Zyrtec, a widely trusted and effective antihistamine. Understanding the proper dosage of Zyrtec can help ensure optimal relief from allergy symptoms without any unnecessary risks or side effects.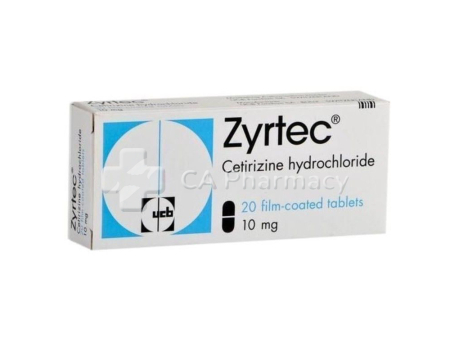 The recommended dosage of Zyrtec may vary depending on factors such as age, weight, and the severity of allergies. For adults and children 6 years and older, a typical starting dose is 10 milligrams (mg) once daily. However, it is important to consult with a healthcare professional for personalized guidance.
For children aged 2 to 5 years old, the recommended dosage is usually 2.5 mg once daily. It's crucial to follow the instructions provided by your child's healthcare provider or pharmacist to ensure accurate dosing based on their specific needs.
It's worth noting that exceeding the recommended dosage of Zyrtec does not necessarily lead to better results. In fact, taking more than the prescribed amount can increase the risk of experiencing unwanted side effects without providing additional relief.
Always remember to read and follow the instructions on the packaging or consult with a healthcare professional if you have any questions or concerns about dosing Zyrtec. By doing so, you can effectively manage your allergies while prioritizing your well-being and safety.
Zyrtec - Side effects
While Zyrtec is a widely used and effective medication for allergy relief, it is important to be aware of its potential side effects. Like any medication, Zyrtec can cause certain adverse reactions in some individuals.
Common side effects of Zyrtec may include
Drowsiness;
Dry mouth;
Dizziness;
Headache, and gastrointestinal disturbances such as nausea or stomach discomfort.
These side effects are typically mild and temporary.
In rare cases, more serious side effects may occur. These can include allergic reactions like rash, itching, swelling of the face or throat, severe dizziness or trouble breathing. If you experience any of these symptoms after taking Zyrtec, it is important to seek medical attention immediately.
It's worth noting that the likelihood and severity of side effects can vary from person to person. Some individuals may experience no side effects at all while others may have a higher sensitivity.
If you have any concerns about the potential side effects of Zyrtec or if you experience any unusual symptoms while taking this medication, it is always recommended to consult with your healthcare provider. They will be able to provide personalized advice and address any specific concerns you may have.
Drug Info
Brand Name: Zyrtec;
Active Ingredient: Cetirizine Hydrochloride;
Manufacturer: J AND J CONSUMER.