Descriptions
Drug Info
Brand Name: Olumiant;
Active Ingredient: Baricitinib;
Manufacturer: Eli Lilly.
Olumiant review
Olumiant is a medication used for the treatment of adults with moderate to severe rheumatoid arthritis.
It is a JanusJAK) inhibitor that helps to reduce inflammation in the body.
Olumiant has been approved by the FDA and has been found to be effective in reducing rheumatoid arthritis symptoms and improving physical function in clinical trials.
In addition to its use in rheumatoid arthritis, Olumiant is being studied for its potential use in the treatment of COVID-19.
Preliminary research suggests that Olumiant may have some efficacy in reducing the severity and progression of COVID-19 in hospitalized patients.
Some clinical trials have shown that the addition of Olumiant to standard care may reduce the need for supplemental oxygen and improve recovery time in hospitalized COVID-19 patients.
However, like any medication, Olumiant may have side effects and risks.
Common side effects of Olumiant include upper respiratory tract infections, increased cholesterol levels, and nausea.
Serious side effects may include blood clots, infections, and allergic reactions.
It is important for patients to discuss the potential risks and benefits of Olumiant with their healthcare provider before starting treatment.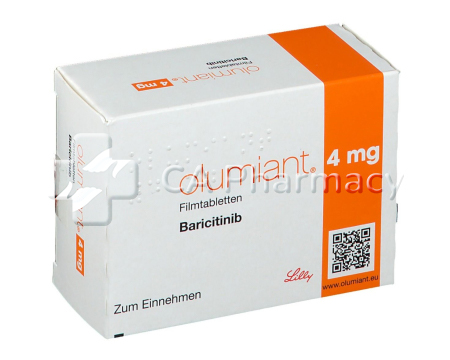 Side effects Olumiant for COVID-19?
While Olumiant (generic name: baricitinib) has been used as a treatment for COVID-19 in hospitalized adults requiring supplemental oxygen, it is essential to consider its potential side effects. Common side effects of baricitinib include:
Infections: Olumiant may increase the risk of developing infections such as upper respiratory tract infections, urinary tract infections, and pneumonia. It is important to monitor for any signs of infection and seek medical attention if symptoms occur.
Allergic reactions: Some individuals may experience allergic reactions to Olumiant, which can include symptoms like rash, itching, swelling, or difficulty breathing. If any of these symptoms occur, it is important to seek immediate medical attention.
Blood disorders: There have been reports of decreased white blood cell counts (neutropenia) and decreased platelet counts (thrombocytopenia) with the use of Olumiant. Regular blood tests may be needed to monitor for these conditions.
Liver problems: Olumiant may cause liver enzyme elevation, which can be a sign of liver damage. Regular liver function tests may be necessary to monitor liver health.
Blood clots: There have been reports of blood clot formation (thrombosis) with the use of Olumiant. It is important to be aware of any signs of blood clots, such as pain or swelling in the legs, chest pain, or shortness of breath, and seek immediate medical attention
What is the recommended dose for taking Olumiant to treat COVID-19?
The recommended dose for taking Olumiant (baricitinib) to treat COVID-19 is a 4 mg tablet once daily for a duration of 14 days or until hospital discharge, whichever comes first. It is important to note that baricitinib is currently approved by the FDA as a treatment for rheumatoid arthritis and not specifically for COVID-19. However, it has shown promise in clinical trials as a potential treatment for COVID-19 when used in combination with remdesivir. As with any medication, it is essential to consult with a healthcare professional for the appropriate dosage and guidance based on individual circumstances.
Is Olumiant available without a prescription?
Yes. In our online pharmacy, Olumiant is sold without a prescription, at low prices, with delivery throughout Canada. Our Covid 19 products are tested and certified, you can be 100% sure of the quality of our drugs